Find of the Month: VB Chocolate Bar
Hang on for a minute...we're trying to find some more stories you might like.
Not so far away, across the river, is a little hidden gem that many St. Charles County "residents have come to appreciate.  VB Chocolate Bar is nestled in the historic small town of Cottleville which has many enticing shops and restaurants, particularly in the downtown area.  Located next to the ice cream shop, Cottleville Cookies and Cream, and local grocery store, Mannino's Market, VB Chocolate Bar is one of the most popular places to eat.
Its name "VB" is derived from the last name of the owner, Conor Vanbuskirk.  VB Chocolate Bar has a bakery with coffee served most days from 7:00 am to 11:00 pm in addition to a kitchen and bar open five days a week from 5:00 pm until late at night.  The bakery makes many exemplary pastries and desserts, some of which are seasonal.  VB Chocolate Bar is known for its exquisite coffee and tea.  The kitchen has a large selection of food to eat which comes in smaller portions, perfect for a small meal.  While there is a bar with a wide selection of drinks, the restaurant will appeal to everyone from baby-boomers to millennials.
At VB Chocolate Bar, you can walk in and seat yourself at any of the tables or armchairs.  There is even an outdoor seating area with a fire pit and chairs surrounding it—perfect for fall weather.  People go to VB to relax and catch up with a friend or sit and study for a while, so there is no pressure to hurry up and leave the ambiance of the cute table.
Of course they have all the decadent desserts to make any chocoholic go wild, considering almost all the sweet treats are made with chocolate.  One of the most popular desserts is the chocolate brownie that is very rich and sweet.  They offer the tableside s'more which is exactly what it sounds like; they bring a blowtorch to your table to burn the marshmallow to your liking.
VB Chocolate Bar considers making the food and drinks themselves a priority and even source many ingredients from local farmers.  It is a local cafe and restaurant that prides itself on creating unique and authentic recipes not found at your typical national food chains.  The chocolate that is in so many of their desserts is their own recipe, and it is sold individually, too.  To experience a coffee shop with treats as good as the coffee, go to VB Chocolate Bar.
About the Writer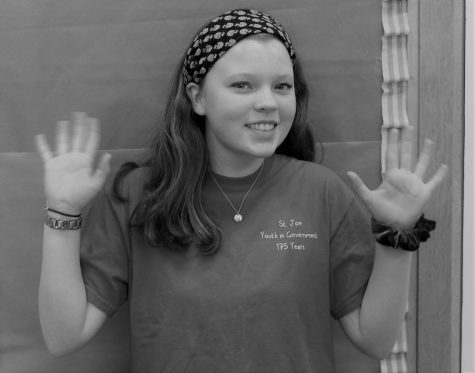 Madison Guzy, Features Editor
Madison is a junior at St. Joseph's Academy....