Netflix Review: Riverdale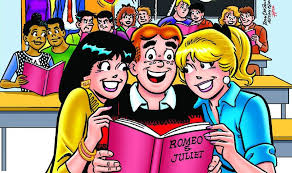 Madison Guzy, Features Editor
October 16, 2017
The CW's popular new teen drama Riverdale was released in January, and has been renewed for a second season which will be released in October of this year.  The television series was created from the Archie comic series, and although it has a modern twist, it includes many of the same characters and iconic places.  The most alluring aspect of Riverdale is the murder of golden boy Jason Blossom that season one revolves around as the characters try to solve the mystery.  
The story takes place in the small town of Riverdale which initially seems like the perfect town until the characters begin to uncover its dark secrets.  New Zealand actor KJ Apa, from A Dog's Purpose (2017), plays the main character, Archie Andrews.  Archie is a skilled football player, but he begins pursuing a music career.  
The series is narrated by aspiring writer and Archie's good friend Jughead Jones, played by Cole Sprouse who starred in the former hit Disney Channel show The Suite Life of Zack and Cody.  
New girl Veronica Lodge (Camila Mendes) leaves the Big Apple to move to the small town after her family goes broke.  Veronica is determined to start over and make good friends in Riverdale.  Therefore, she sets aside the obvious mutual attraction with Archie to preserve her new friendship with Betty Cooper (Lili Reinhart) who has harbored a crush on Archie for years.  The two friends form a bond as they stand up to Jason's twin sister, Cheryl (Madelaine Petsch), whose lack of kindness would give Regina George a run for her money.
The show appeals to all generations because it features stars who appeared as teenagers in their own series or movies in the 20th century.  Archie's father is played by 90's teen heartthrob Luke Perry from Beverly Hills 90210, and 80's teen idol Molly Ringwald makes an appearance as Archie's mother.
The main characters struggle with their own family issues: Archie's parents are estranged from each other, Jughead's father is the leader of the biker gang the Southside Serpents, Veronica's father was arrested for fraud, and Betty's parents are keeping the location of Betty's sister a secret.  
Riverdale combines teen drama with mystery and romance in this thrilling series.  From the hangout at Pop's Chock'lit Shoppe to the fiery red hair sported by so many characters, Riverdale is a riveting series that will keep you on the edge of your seat.