Freshman Formation: An exciting leap
Freshman Formation is a brand new course that teachers freshmen the abilities needed to succeed in not only high school, but also in life. Freshman Formation is a pass/fail class. This can prove to be very beneficial to the information taught.  According to teacher John Vullo, "It's a safe environment for you to work at your own pace without fear of hurting your GPA because it is a pass/fail class."  The course is on a trimester schedule and has three sections in which each student spends 12 weeks in each. The first sections is CSJ Mission and Leadership and is taught by Ann Hammer and Katie Kilcullen. This section teaches freshmen about the mission and history of the Sisters of St. Joseph of Carondelet while also implementing leadership in their lives. Mrs. Kilcullen who has been teaching at the Academy for several years explains how beneficial the class can be for students.  She states,  "We wanted ALL of our students to experience intentional leadership training through the CSJ Charism of right relationship and unifying love."
Another one of the sections is Health and Wellness which is taught by Colleen Smith-Yelton. This section teaches students about not only physical health, but also mental health. The third section, taught by Mr. Vullo and Ms. Hughes, is speech.  In past years, speech was not required, but could be taken as an elective.  However faculty and staff soon realized the importance of the ability to speak in front of an audience, particularly at St. Joe.  The skills taught in the class deem beneficial for presentations and in the future when applying for jobs.
There are roughly 40 students in each section. The groups were decided by Mrs. Sudekum based on the freshman's applications to St. Joe. Students were paired with other students based on similar interest for the purpose that they might easily connect with one another. On D days, every freshman learns Study Strategies from Mrs. Curran. Mrs. Curran's class is only taught during the first trimester and freshman get a study hall on D days during the second and third trimester. Mrs. Curran states that even though she has the entire freshman class in the theater at one time they are "attentive, engaged, taking notes, asking excellent questions, and acting in a completely respectful way that indicates to me they are taking the courses seriously." Mrs. Curran also mentioned how many girls have made appointments with her to discuss their own personal challenges.
Aside from the teachers opinions, the girls seem to really enjoy the classes too. Some mention how many freshmen have found friends. It is also a good time for their friendships to grow.  Freshman Kelsey Auer explains, "It's a way to further bond with my classmates and talk through topics that are interesting."  Some freshman mention how they like learning about these topics without having to worry about getting a grade. They also think that these topics are interesting and important to learn. Overall Freshman Formation has been a very positive addition to our school.   "We believed that the specific learning sections needed to be intentionally taught to all students," Mrs. Kilcullen said, "and what better place to begin than freshman year!"
About the Writer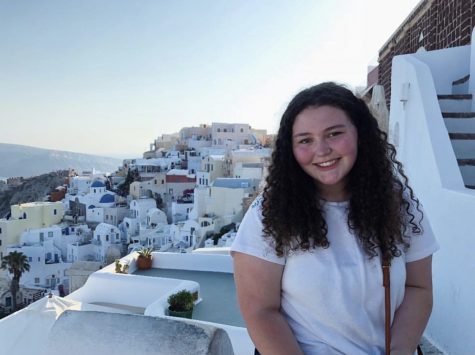 Parker Lewallen, Digital Managerial Editor




Senior Parker Lewallen acts as digital managerial editor for the 2019-2020 school year. Aside from newspaper she is also a people editor for yearbook,...