Signing Into the Future
Every year, a group of seniors from every high school officially agree to attend an NCAA college as a student-athlete. This highly anticipated event signifies the end of the intensive recruiting process and guarantees the students admission to their choice school. This year, the date landed on November 9. 
For the students, this event is strictly focused on them to celebrate their accomplishments. They sat on the stage in the theater behind a table that stated where they would be signing to. They wore their college's shirts and hats. Everyone had  loved ones in the audience loudly cheering for them as their names were announced. Finally, they signed their name on the paper.
Senior Annie Ryan, who signed to Ohio University for field hockey, had dreamed of this event the moment she committed, so she had a smile on her face throughout the entire signing. 
"I am so excited for my next four years, and it is all beginning to feel real after my singing. I am going to miss St. Joe and St. Joe field hockey, but I can't wait to take on the next chapter of my life! I was so overwhelmed with all of the support and love from my family, friends, and teammates," Annie said. 
This year, the Class of 2023 had ten athletes signing their letters of intent, which is the highest number of students ever for St. Joe. Rylie Andrews signed to Missouri State University for golf; Maddie Bowman signed to University of Cincinnati for soccer; Quinn Conroy signed to Rockhurst University for soccer; Anna Duncan signed to Manhattan College for volleyball; Sarah Gilmore signed to Rockhurst University for soccer; Abby Hickman signed to McKendree University for beach volleyball; Kilian Kohl signed to Lindenwood University for soccer; Mia Martin signed to George Mason University for soccer; Annie Ryan signed to Ohio University for field hockey; and Madison Smith signed to Illinois State University for volleyball.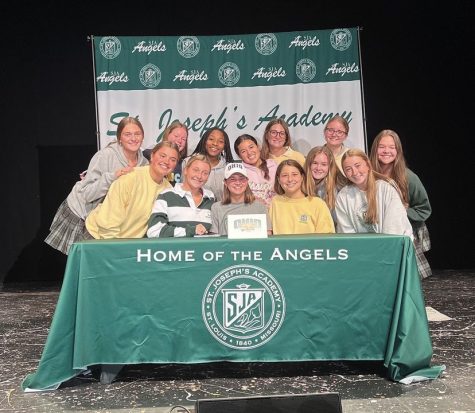 Coach Maureen McVey has been the athletic director at St. Joe for many years, yet she felt even prouder of this year's athletes. 
"I am happy and proud to say that this is the largest group of signees we have ever had here at St. Joe. The scholarships they are receiving today represent the countless hours of hard work, dedication, and commitment to academics and their sport. We truly believe these student-athletes have excelled both on and off the field," McVey said.
After the ceremony, the student-athletes received a bag of the infamous Grandma's Cookies from Chesterfield. Photos were then taken with family, friends, and coaches to remember this exciting day in their athletic career. This memorable day will stay in these athletes' minds for the rest of their lives.