Diving into The Joy Luck Club by Amy Tan: A Book Review
Once again, the four women take their place around the mahjong table. As they gather, they enjoy the plentiful piles of food made: a steaming pot of wonton, chow mein, chaswei, stuffed thin-skinned pastries, soft boiled peanuts and more. A new but familiar face joined them this evening, for Jing-mei Woo was asked by her father to take her mother's place at the mahjong table after her death. So she sits in her mothers seat, on the East: the origin of new beginnings. 
The Joy Luck Club written by Amy Tan, follows the stories of eight women–four mothers and their daughters. Each unique story exhibits their different walks of life, comparing the mothers, who were raised in China then immigrated to San Francisco, versus their American-born daughters.
Amy Tan provides readers with a beautiful rendering of strong relationships between mothers and their daughters, united, even when having grown up in different circumstances that caused some difficulties in connecting with one another. They come to truly know the bonds of family, origin, heritage, and stories which bind them in utmost love and support. 
The story is split into four main sections titled, Feathers From a Thousand Li Away, The Twenty-six Malignant Gates, American Translation, and Queen Mother of the Western Skies. Each of these begins with an intriguing, short excerpt depicting a situation that pertains to the overall title of the section. This excerpt is then followed by four individual parts, or chapters. Each of these are told from the perspective of one of the four mothers or daughters. This set up of the book proved to be interesting and unique, unlike anything I have read before. For this reason it allowed me to get through many parts fairly quickly. 
I also enjoyed the distinctive writing style used by the author as well as the stories of each of the women. I was able to immerse myself into the book, and understand their point of views as they told the readers of their struggles, joys, lucky moments, and happy occurrences.
At the beginning, it was quite difficult to remember all the characters, and figure out which daughter is related to which mother. In addition, although the book begins and ends with parts told in Jing-mei Woo's perspective and seems to be primarily centered around her, it was a little confusing to really understand. 
Juniors Mary Ellen Gaertner and Maggie Poe also read this book for their English class. 
"I did not like how little it focused on Jing-Mei and how fast they introduced the characters." Mary said. "My favorite thing about the book was learning about Jing-Mei's mother and aunt's journey to the United States."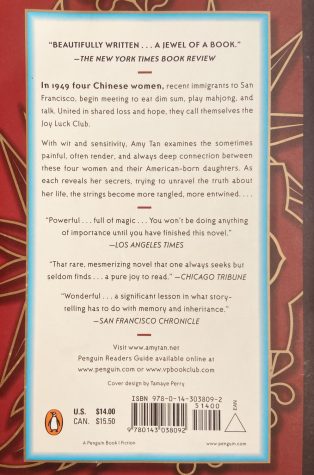 When asked for a rating, Mary Ellen gave The Joy Luck Club a 3.5 stars out of 5 stars. 
Meanwhile, Maggie really enjoyed the novel.
"I liked all the wisdom and sayings used by the author," Maggie said, "Although, there was a lot of dissatisfaction with the daughters. I would rate [the novel] a 5 out of 5."
This book kept me thinking and wanting to understand as well as truly know more about the eight women. It allowed me to form connections of my own, and plunged me into deep thought on many occasions. I enjoyed this new reading experience, since I have not read a book similar to this before. I got to learn more about Chinese culture and the importance of familial unity, especially between mothers and their daughters. For all these reasons, I would give the book a 4 out of 5 stars. The Joy Luck Club was a great experience that I have been missing out on previously, and has sparked new ideas and beginnings in my thoughts and life. 
A picture of the back summary of The Joy Luck Club by Amy Tan. (Lizzy Khater)