Tennis teams serve up a good season
As many know, St. Joe is a big fan of their sports teams. The St. Joe varsity and junior varsity (JV) tennis teams are an excellent example of what a great sports teams St. Joe has. The tennis teams are full of nice coaches and players that contribute to a great season. There are 26 total players, 12 are on varsity and 14 on JV. The JV coach is Coach Cindy Tabscott and the varsity coach is Coach Doug Smith. 
Coach Tabscott has been coaching the JV tennis team at St. Joe for 10 years. She previously coached at Huron Valley High School in Ann Arbor, Michigan. This year is Coach Smith's 25th season at St. Joe. He has also spent 40 years teaching professionally and is part owner of Sunset Tennis Center.
This season has been very successful. The JV team has won most games with very high scores. One major win was against MICDShe where players fought hard. Out of seven matches, five of them had to go into third set tiebreakers. St. Joe won the final tiebreaker with a score of 12 to 10. The final score was 4-3. The JV team has had a great season and is looking forward to next season.  
The varsity had a great season as well and  are heading to state. They have a great record this season and are hoping to win the state championship. Some major wins were the Edwardsville and Kansas City tournaments.They also had major wins against MICDS, Visitation, and John Burroughs. The varsity team is ready to go to the state championship.
 "I am so proud of the SJA JV team.  This year's team was hard working and humble.  They worked hard individually and also supported each other's efforts on and off the court.  The girls took time to get to know each other and their efforts created a strong team on and off the court," Coach Tabscott said.
Senior Abby Gaines has been on the team for four years and thinks others should join in future.
"Definitely do it, the coaches are super encouraging and also super nice," Abby said.
Both the JV and Varsity tennis teams have great teammates. They lift each other up and have made a strong team on and off the court. The tennis team have shown their team spirit through each other. They have become a better team because of this.  The coaches are also very helpful and encouraging.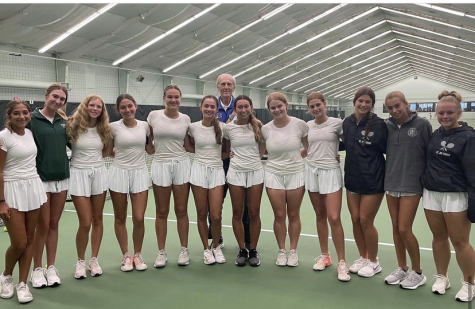 "Overall, the future is bright for St. Joe tennis because this is the youngest team I've ever had here. Of the 12 members of this year's Varsity I have only 2 upperclassmen–1 Senior (Abby Gaines, Captain) and 1 Junior (Mackenzie Golomski). The other 10 consist of 5 Sophomores and 5 Freshmen.  This augurs extremely well for the years to come," Coach Smith said.
The varsity tennis team is also well prepared for seasons to come. The varsity team is one of the youngest with it mostly consisting of freshman and sophomore players. This means that St. Joe will have a strong tennis team for years to come.