Digging Into the Volleyball Season
The school year started out with an overwhelmingly exciting amount of incoming and returning freshmen trying out for volleyball this season. Nearly 50 girls from that group alone tested their limits in the Saint Joe Volleyball tryouts on the week of August 8. Saint Joe was excited to welcome 9 girls to its freshman team, 13 girls to its junior varsity team, and 15 girls to its varsity team. 
Along with the new freshman volleyball recruits, St. Joe offers a warm welcome to Mrs. Maggie Sullivan. Mrs. Sullivan, who is the vice president of mission, has also taken the position of coaching the freshman volleyball team.
Mrs. Sullivan is a proud St. Joe alumna of '93, as well as a former St. Joe volleyball player. 
At a glance, the volleyball teams' overall performances have demonstrated dominance on the court. Each team displayed impressive statistics and accomplishments so far this season. 
Freshman Kathryn Teepe belongs to St Joe's junior varsity team. Kathryn was excited when she was invited to join the team at the start of the school year. Volleyball at St. Joe has been a game changer for Kathryn. 
"Even though I got hurt this season, it doesn't change the fact that I love my team. They make me feel included in everything they do and I couldn't ask for a better team," Kathryn said.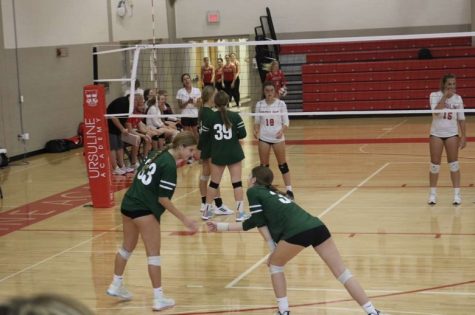 Charley Chickanosky has also joined the freshman volleyball team. Over the course of her club volleyball experience, she has played as a defensive specialist, right side, and setter. On the SJA freshman team, Charley has the role of setter. 
"The best thing about being a part of the St. Joseph's Academy volleyball program has been getting to know the players and representing our school," Charley said. 
Students are thrilled to have their new freshman recruits and coach. Saint Joe can't wait to see where the volleyball team takes them this season.