The Class of 2021 Celebrates Senior Investiture
Every girl looks forward to her senior year at St. Joe. Senior year is packed with fun festivities such as senior pranks, prom, and graduation. One of the many great aspects of being a senior is being a leader for the rest of the student body to follow. On September 30, the Class of 2021 celebrated their Senior Investiture, which honored their new leadership roles. 
Senior Investiture is a ceremony that was started several years ago by former principal, Dr. Diane Cooper, as a way of recognizing the seniors as leaders of the school. During the ceremony, the senior class president, Emma Garamella, gave a speech. She called the seniors to fulfill their leadership roles, and she motivated them to take advantage of their time left at St. Joe.
"For the remainder of the year, I encourage you to do your homework, wear your skirts (one index card length above your knees), drive slower in the parking lot, log onto Zoom on time, and most importantly, make a profound impact on the world," Emma said. " It is what we St. Joe girls do best."
The seniors went up on stage one-by-one to receive their green stoles decorated with the St. Joseph's Academy crest and their graduation year: 2021. The seniors will wear the stoles again at graduation. The green stoles are a symbol of the beginning of their leadership to the end of their time at the Academy. 
Seniors like Rachel Esser saw the installation as a realization that they will graduate soon.
"But before we leave, we need to be leaders, and I think that's what investiture is all about: becoming leaders," Rachel said.
Madame Leigh LaMonica, who is the senior class coordinator, always enjoys seeing the seniors take on their new responsibilities and privileges.
"It's a really beautiful ceremony and a way of recognizing the four years of hard work the seniors have achieved," she said.
Senior Investiture truly is a wonderful event for the entire school to commemorate our seniors. Especially due to the 2020-2021 school year being affected by the COVID-19, the Class of 2021 has proven their bravery and strength in guiding St. Joseph's Academy through this difficult time. The Class of 2021 has shown that nothing can stop the determination, teamwork, and love of the St. Joe Community.
About the Writer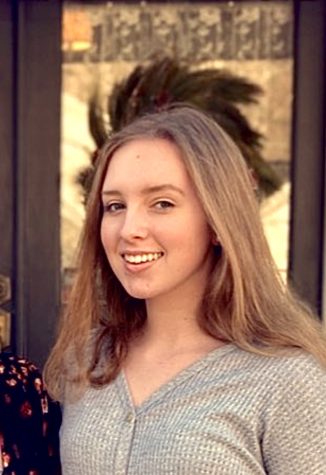 Lily Pingleton, Senior Staff Writer
Lily Pingleton is a sophomore at St. Joseph's Academy. Lily is proud to be a senior staff editor for The Voice! Lily is a Campus Minister spiritual chair,...