Sophomores Engage in Ring Box Tradition
The receiving of junior rings is a tradition that schools across St. Louis celebrate. This marks the moment the juniors receive their school rings. St. Joe's beautiful ring has an emerald with the gold or silver band, along with St. Joe and the junior's name engraved inside. This stunning memento deserves an equally pretty place to store it, so before Junior Ring Mass, each junior is matched up with a sophomore who creates a personalized box just for her. 
The students in the sophomore class want to surprise and satisfy the juniors, so they dedicate hours to ensure that their ring box is perfect. The plain, simple wooden box that they receive is transformed into a colorful and impressive container in their two-week deadline. Most showcase monograms, pearls, bright colors, and glitter. 
The juniors have the option to request a sophomore friend to create their box, but many are matched randomly. In either case, the junior verifies with the sophomore their preferred colors and design.
This responsibility can feel stressful and nervous for the sophomores. Everyone wants to make sure their junior will love it. Sophomore Peyton Friedman hoped her Junior would not be disappointed. 
"I was so scared that she would not like it. When I was painting it, I kept redoing everything to make sure it was as perfect as it could be. This box represents such an important memory from high school, and I wanted her to remember loving her Junior ring box," Peyton said. 
This experience has become unique to St. Joe as many other area schools have discontinued the tradition. So St Joe students were even more grateful that they have the opportunity to decorate and receive personalized boxes. 
Sophomore Izzie Patritti hopes that the tradition will never end at St. Joe. 
"I was so surprised when one of my friends said her class stopped having sophomore make Junior ring boxes. I loved the process of making something so special for one of my close friends who is a junior. I think it creates such a great connection between the two grades," she said. 
Not only do the sophomores enjoy this tradition but it also excites the junior class. They understand this responsibility since they were tasked with it last year, but this time they could step back and let someone else do the work.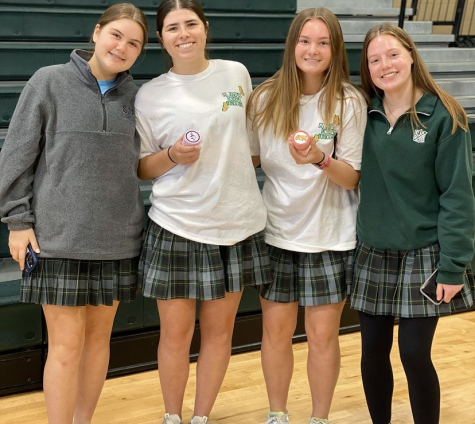 Junior Annie Malloy felt so much curiosity about what hers would end up looking like. 
"I requested one of my friends, and it was so hard to not ask her to show me what it looked like before the exchange. I trusted that she would do a good job, but I was still a little nervous about it," Malloy said. 
Junior Ring Day is one of the most exciting and anticipated days of the year. Juniors, sophomores, and even the administration love this long-cherished tradition that will continue for years to come. It combines the creativity of the students with the love of friendship between these two classes in a simple yet meaningful box that holds amazing memories for anyone that has attended St. Joe.