Choir: Singing their way into Districts!
Several members of the Frontenac Voices recently participated in District Choir. District Choir is an elite group of singers who must persevere through a lengthy audition process to be accepted into the talented community. However, those who are not involved in St. Joseph's Academy's performing arts program may be unaware of District Choir. It is always important to stay up to date on all of the various activities that fellow Angels are involved in so that students can support and praise one another's accomplishments. 
Senior Sophie Middendorf, a member of this year's District Choir, provides a technical explanation.
"District Choir is where members of our districts come together and audition to be a part of a big, collective choir. There are two choirs: The SSAA choir and the SATB Honors Choir," Sophie said. "We have three practices: the first two last two hours and the last one is all day before the concert. We sing as a collective group from our district and perform the songs we worked on."
The audition is divided into two parts. The first section involves sight reading and key signature identification. For sight reading, the auditionee is given a brief period of time to prepare before singing the short piece assigned to them. Then, at random, they are asked to name a key signature. The second segment is a solo song. This is a blind audition. The auditioners are facing away from the singer as they perform ninety seconds of a song they hand picked ahead of time.
Senior Lucy Kelley, another member of this year's District Choir, was pleased with the experience.
"I really enjoyed District Choir," Lucy said. "The music was different from what we normally do at St. Joseph's Academy. The experience greatly helped my range."
According to Lucy's feedback, singers who desire to expand their musical repertoire should consider auditioning for District Choir. Being a versatile performer is especially important in the world of singing, so growing a diverse portfolio is essential. The greater the artist's versatility, the more opportunities are available in the professional world.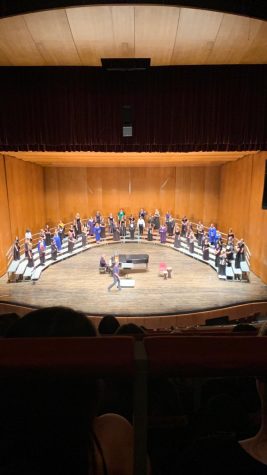 Junior Meredith Dunn was also a member of this year's District Choir. It was her first year in the choir, and she is excited to share her experience.
"I would definitely recommend trying out if you never have before," Meredith said. "This year was my first year and I had a blast at the rehearsals and concert. It was definitely worth all the time and effort."
Even Sophie Middendorf, a more seasoned District Choir member, recommends this experience to others.
"District Choir teaches you how to be able to blend your voices with others and teaches you how to pick up music quickly," Sophie said, "You also get to work with amazing people who help you become a better singer. District Choir is a great way to take advice and apply it so you can be the best you can be."
District Choir is a fantastic way to develop talent. The apparent complexity of the audition should not be overwhelming. If a young singer is searching for a unique way to gain exposure, improve their voice, and meet new people in the community, they should consider auditioning for District Choir.