Our School's Gifted Golf Team
There is no doubt that St. Joe has a talented Varsity Golf Team. They always have been and always will be a valued piece of our school. Golf is historically a tough sport to play, so we all commend the team on their hard work and dedication. From winning 12 State Championships in total and holding this title for 2 consecutive years, the team is a proud part of SJA. 
A lot of time and effort goes into preparing for important events within the team. The Varsity Golf Team practiced five school days every week before moving on to Districts and finally, State. They practiced every single day directly before these events.  
The team started the competitive season on a high note. Starting off with Districts, the top five varsity players get to play in a tournament. These players were: Senior Rylie Andrews, Junior Bella Buckley, Junior Catherine Croinin, Sophomore KC Lenox, and Freshman Maggie Drozda. These talented golfers all did very well as they all shot below the average score in golf of 90 strokes. Rylie Andrews shot a 71, Bella Buckley shot a 75, Catherine Croinin shot a 77, KC Lenox, a 78, and Maggie Drozda, an 81.
Sophomore KC Lenox believes that the spirit within the team has grown greater every year. The bond is strong and every member adds a bunch to the Varsity Golf team.
 "For both Districts and State, everyone came together and cheered [one another] on. Our team is so close so it was easy to be happy for everyone involved. The lone senior, Rylie Andrews, brought everyone together for our team this year," KC said. 
State is where it really all matters. Here the top four girls go from every team that won districts and the 5th player will qualify on their own. Each girl ended with two final scores. Rylie Andrews shot two 76's, Bella Buckley shot an 82 and 80, Catherine Croinin an 87 and 82, KC Lenox a 76 and 81, and Maggie Drozda an 89 and 97. This performance led the Golf team to victory!
Rylie shares her thoughts on the team during her last year. She has been on the team for the past four years and was a part of her third state title team in a row.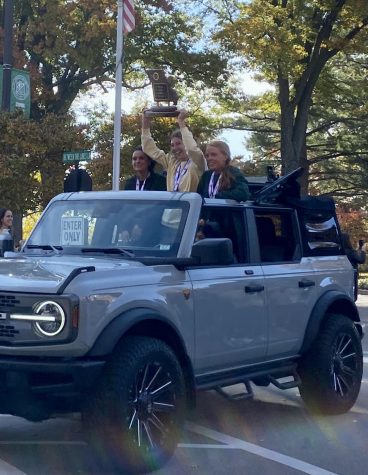 "It was super exciting to pull off the win for the team and I really enjoyed getting to play golf with them this year. The SJA Golf team has become some of my best friends and I'm so grateful we got to win a state championship together!" Rylie said. 
The Golf Team certainly wouldn't be where it is without the incredible coach of 21 years, Carol Fromuth. Prior to coaching at SJA, she coached both boys' and girls' golf teams at Lafayette High School for 17 years. She was honored as National Girls Golf Coach of the Year in 2005. At SJA, the Golf Team has won five state championships and placed in the top four for 16 of 21 years. 
The team is definitely grateful for their coach. 
"She's the sweetest lasy ever and has the biggest heart," KC said. We are so thankful for such a fantastic golf coach.
Overall, it is certain that St. Joe has an exceptional Varsity Golf team. They put so much effort into their craft and have pulled so many wins for our school.