Changing Traditions: Thrilla Villa
For more than 30 years the St. Joe vs Villa field hockey game had been referred to as "Killa Villa" by many St. Joe students and alumnae, but in the spirit of being respectful, St. Joe has decided to retitle the game "Thrilla Villa." St. Joe and Villa have been long-standing rivals for decades, a rivalry marked by car parades, fundraising competitions, and the highly anticipated field hockey game. Some didn't see a problem with "Killa Villa," but the change is St. Joe's attempt to help achieve a greater goal: changing how we use our words. 
In August of 2022 The Riverfront Times posted an article titled "What Your St. Louis High School Says About You." The article meant to be funny, was a compilation of photos of St. Louis high schools, captioned with mean remarks. Local schools, including St. Joe, felt misrepresented, and some even offended by the presentation of their schools. The photo's captions came from stereotypes associated with the schools, and for St. Joe, referenced the decade old infamous nickname "St. Joe hoe." This sparked conversations within St. Joe about the power of words and how to use them. 
Mrs. Maggie Sullivan, Assistant Principal of Missions and a graduate of the Class of '93, felt strongly about the topic.
"It [St. Joe vs Villa game] has been called that [Killa Villa] for a long time, and it will take a long time to change that… but we have to be more intentional with our language," Ms. Sullivan said. 
The St. Joe administrators emailed the Riverfront Times with their concerns. Although their goal to have the article removed wasn't reached, the paper did make positive edits.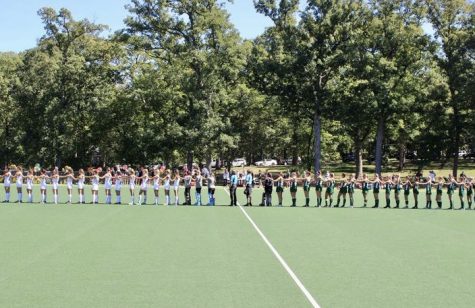 The article is still online and viewable, now showing a new description of St. Joe students being "You're probably a snob." Riverfront Times wrote. 
The article surfaced weeks before the annual field hockey game and in an effort to use more intentional language "Killa Villa" was modified to "Thrilla Villa."  This was also done in hopes to open the door for conversations with Villa about changing how their students refer to the event. 
St Joe students have come to understand why the name change was important; sophomore Macie DiGuiseppe is very involved in St. Joe athletics being on the cross country, swim and track teams. 
" I think the change was necessary and by doing it we are setting the example for others," Macie said 
Retitling the game, although only by three letters, sets the example for others and shows that competitiveness and respectfulness can coexist. Overall, this change is meant to reflect St. Joe's commitment to build up women and live out the motto "Not I but We" in everything we do.