St. Joe prepares for Open House
Every November, St. Joe holds an annual Open House to showcase St. Joe to middle schoolers all over the St. Louis area. This year, while things may be looking a little different, Open House was still in full swing. Preparations were made for hopeful recruits to be drawn into St. Joe in a safe manner.
Because of St. Louis county restrictions, the live student-led tours were limited to just eighth-graders and their families as participants, but virtual tours were available for fifth, sixth, and seventh graders. Any eighth-grader who was more comfortable doing an online tour was also welcome to do so. Eighth graders had that opportunity to come shadow St. Joe in person on November 8th, while fifth, sixth, and seventh graders took virtual tours of the school on November 7th. 
Mrs. Clare MacConnell, who works on the Admissions team, couldn't wait for Open House.
"I love Open House because I think it's a great way to showcase our whole community," she said. "It's a whole hands-on-deck opportunity, so it's really a 'Not I, But We' situation. It's fun to show off all the fun things we're doing"
Additionally, St. Joe has a new face on its admissions team this school year. Deanna Williams is the new Diversity Outreach Coordinator. She has accomplished so much to strengthen our school's commitment to diversity, equity, and inclusion.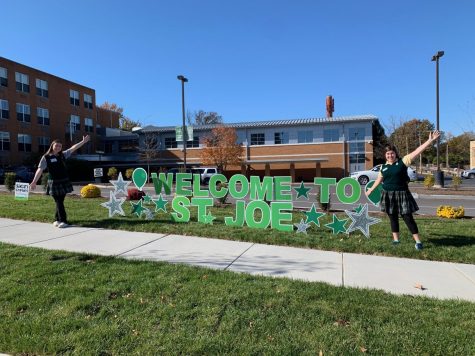 Ms. Williams has enjoyed being a part of St. Joe thus far, recognizing the community aspect St. Joe offers.
"The community has welcomed me with open arms. I'm so grateful for the opportunity to work alongside amazing people as we work towards our commitment to diversity, equity, and inclusion," Ms. Williams said. 
Many student ambassadors are very excited to be involved with Open House this year. Ambassadors trained and prepared for this big day in order to show middle school students how fantastic St. Joe is. This year, St. Joe had over 200 student ambassadors to show off the wonderful school.
Senior Sophie Gloriod enjoys being an ambassador, specifically giving tours.
"Not only do I get to show off and brag about how amazing St. Joe is, I also get to meet middle school girls and help them with their high school search," Sophie stated.
Open House is always an event to look forward to for every angel. Meeting middle schoolers and possible future angels is always exciting. This year may be different, but that only leaves more room for the middle schoolers to be wooed when they actually attend.