Should We Be At School?
The following is an editorial by a student. She is expressing her opinion, which does not necessarily reflect that of The Voice nor St. Joseph's Academy.
Among all people globally, a current controversy exists: Should students be allowed to go to school physically while the world still manages a global pandemic? Some common questions among these people include: is being in school physically worth the increased possibility of getting COVID-19? How many rules will be enforced to guarantee safety? Will risking student safety ensure that each student will be getting the most out of their education while being physically present in school? The number of questions and concerns truly are endless regarding COVID-19, and while worry is definitely reasonable and allowed, life at some point must return to normal beginning with education.
To begin, getting over a crisis such as a global pandemic, consists of slowly normalizing daily life again. A key element to normalization is attending school. Students are used to attending school five days a week for seven hours a day. By having such a large portion of their lives simply taken away, students have to maintain their education while already quickly adjusting and adapting to family and extracurricular changes at this time. While COVID-19 is by no means cured and non-problematic, dramatic advances have been made and precautionary measures have also been taken in order to lower the risk of contracting the virus. These include: social distancing, the use of masks, daily temperature checks, and frequent cleaning of desks and chairs. In addition, the number of students in the school building at one time is limited. The amount of thought, consideration, preparation, and precautionary measures that teachers and administrators have taken in regards to student safety demonstrates the necessity of physical presence at school in order to receive the best education possible.
"I have absolutely no worries regarding the spread of COVID-19 at school considering the strict policies every single individual has to follow here every day," emphasizes senior Grace Kertz.
Second, in terms of getting the most out of an education, physical presence in school is especially vital for interactive course learning. For example, the engineering class at St. Joe is almost entirely hands-on learning. While distance is maintained between students and the teacher, the entire purpose of that class is building or experimenting with supplies and materials. True engagement and critical thinking for the engineering class is almost impossible to do at home and the level of difficulty is much greater.
From a student perspective, senior Emma Garamella remarked, "A school acts as a better learning environment because once I enter the classroom, the surroundings give me a focussed approach to my studies and education."
 This clearly reflects how being in the school building truly can impact how much a student gets out of an education, and it also seems to bring about a more challenging and competitive environment rather than being at home alone. 
"While I really dislike wearing a mask and having to sit six feet away from my friends, I really want to be in school and experience my senior year at St. Joe, even if it may be slightly different," Emma said.
On the other hand, some hesitation does arise about physical presence at school. Some may say that due to an increase in cases throughout the region, it is not wise to be in school.
However, with the steadfastness of St Joe's policies and safety terms, students and faculty should be safe according to national recommendations. So, what does the St. Joe community need to focus on staying safe? We need to focus on our actions outside of our school walls, so that we do not unintentionally expose ourselves as well as others while we are on campus. Therefore, being in school while following the guidelines are believed to be adequate regulations for safety in order to continue to give students a solid education that will help prepare them for their future. Due to these reasons, I firmly believe we should be at school because the safety regulations and policies are strict enough to assure safety within the school building.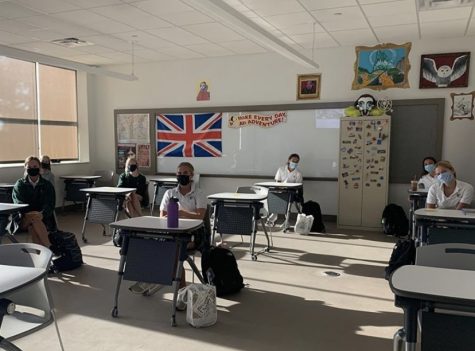 About the Contributor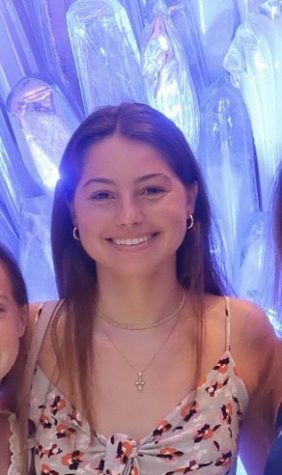 Anna Carollo, Digital Editor
Anna Carollo is a senior and Digital Managerial Editor for the 2020-2021 school year. Anna is a member of NHS, NEHS, and Mu Alpha Theta. She is also an...