Staying Cozy by the Fire during Christmas Break
Looking for some cozy books to read by the fire with family and friends? Here a few of my favorite book recommendations as well as a few series too. As Christmas Break lurks around the corner, classes will be over eliminating all homework. So why not bring your reading inquiries up to the table and explore what knowledge you can learn from just cracking open a book? Again these are just recommendations, but feel free to do more research to find what genre is best for you!
The Girl with the Dragon Tattoo by Stieg Larrson
One of my favorite books takes place in Scandinavia, specifically in Sweden. Following one of Sweden's well renowned publishers, Mikael Blomkvist finds himself in trouble with the court after publishing some controversial stories forcing him to close his company temporarily. Though as one door closes, another one opens as he is summoned to help research a family member's death for a wealthy man who lives on a private estate in Island Hedeby. Soon, Blomkvist finds himself in a dangerous quest to find the truth of a murder that happened decades ago. Opening up old wounds on the island doesn't settle well with the locals and even the families associated with the death. Blomkvist hires Lisabeth Salander to help assist his research. Loving this book is an understatement. Once you develop emotional ties to the characters, it's hard to put the book down. Such a suspenseful book where you cannot stop turning the pages. Also the setting is so unique as well because it takes place in Sweden. To conclude, if you are looking for a book that is very research oriented (not boring) and extremely suspenseful while entwined with mystery this is the book for you.
Rating: 10/10
Harry Potter Series by: J.K. Rolwing
One of the most popular book series out there where each book has been developed into a movie to accompany its companion is Harry Potter. Whether you want to re-read the series or if it's your first time, the luster from each story never dulls as you delve into the depths of each journey. The series dives into the life of Harry Potter, an orphan that lives with his aunt and uncle in England. His life consists of being bullied by his cousin and sleeping under the annex below the stairs. Till one day, a letter from Hogwarts mysteriously appears at his door, opening up many possibilities questioning who his parents were. If you are looking for a story that never disappoints, I highly recommend this. Again, character development is so great at this point that you become so close to the characters. All in all, this would be a great whole-hearted book to cozy up by the fire with!
Rating: 10/10
Imagine: How Creativity Works by: Jonah Lehrer
This book explores more of the creative side on how your brain works and how people are creative in unique ways. What rooms does the average person study better in. Well, science proves that a red room is best. What a coincidence that I always did most of my homework in the dinning when I had a desk at my bedroom, because well our dining room is red. Filled with all sorts of information that make you question why you do certain things and provides you with scientific facts. The book covers how certain minds think, the power of colors, and how certain people are more creative than others. I would recommend this book because there is nothing I have read like this before that wasn't super scientific. This would qualify as an easy read and you go through it pretty fast in my case. If you are looking for something a little more analytical rather than fictional, this is a greate choice!
Rating: 9.3/10
The Da Vinci Code by: Don Brown
Have you ever wondered about the Holy Grail? This book delves deep into the research of Robert Langdon, a Harvard professor who specializes in symbology. A journey to Paris soon turns into something much more than a simple get-together. In the tick of second, Robert finds himself twisted in a murder mystery where he is the sole suspect. Claiming to be free of charge, the French police think otherwise, leading to an escape from Paris's most popular tourism interest: The Louvre. Thankfully, cryptologist specialist, Sophie Nevou, helps the renowned professor slip under the police's noses. Though this is just the beginning of a long chase from the police as the two try to solve the murder of one of Paris's most well-known men, Jacques Sauniere. I would highly recommend that everyone read this book. It is hands-down one of the best out there. It is a longer read with about 600 pages but it goes by so fast and the dialogue is quite entertaining. This book is anything but boring, extremely suspenseful and leads you on at every turn of the page. This is a mystery thriller but also a factual piece of information. It is based on truthful facts and the greatest scientists and theorists such as Newton, Da Vinci, and ties of biblical texts to the Knights of Templar. This book definitely expanded my thinking abilities on controversial theories and allows for deeper intellectual thought on prior knowledge.
Rating: 10/10
To conclude, there are thousands of books out there, only to be discovered by you. These listed above are great places to start but googling any genre can lead you to your newest obsession. Gift giving books for the holidays is another option to share with a friend or loved one. Options are endless, and the holidays create a perfect time to slow down and read a good book. Merry Christmas!
About the Contributor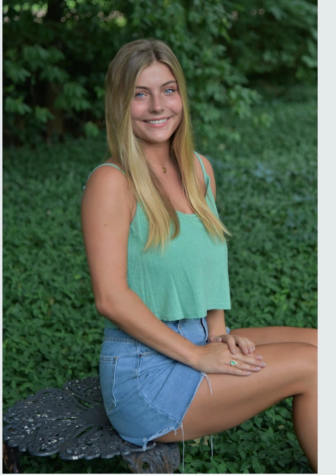 Rosie Johnson, Social Media Editor
Rosie is a senior at St. Joseph Academy and is proud to be the Social Media editor for two years in a row. Some clubs and sports she has been involved...