St. Joe Thanksgiving Favorites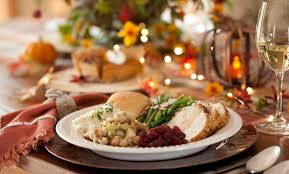 Undoubtedly, this year has been crazy, but with Thanksgiving right around the corner, St. Joe still has so much to be grateful for. Earlier this month, a poll was sent out to the student body and faculty asking them about their favorite parts of Thanksgiving. With over 200 answers, St. Joe has chosen what they love the most about Thanksgiving.
First, what do most people think about when they think of Thanksgiving? The St. Joe community thinks about the food. With 101 votes, mashed potatoes are the favorite among St. Joe. In second place, the stuffing was voted the favorite by 40 students and faculty members. Finally, in third place, crescent rolls were voted the best from 32 people. Sophomore Madi Hanneken loves making crescent rolls with her family on Thanksgiving.
"We have a great time filled with laughs and smiles," Madi said.
Other foods mentioned include: turkey, cranberry sauce, and a variety of casseroles. Thanksgiving involves so many delicious foods to choose from and look forward to, but of course, there is so much more to look forward to as well.
Thanksgiving would never be complete without dessert after the main course, and the St. Joe community has voted on the best desserts as well. Taking the lead in the desserts category is pumpkin pie with 83 votes. Apple pie and brownies, both have around the same number of votes with approximately 20% of the votes each. Finally, with 20 students and faculty voting for it, pecan pie came in third place in this poll. Other pies that people enjoy include chocolate pie, cherry pie, sweet potato pie, and more. Still, others enjoy pumpkin bread and pumpkin muffins. A good dessert, while sitting with your family, is one of the best ways you can end a great Thanksgiving day.
Of course, all the food is amazing, but Thanksgiving would not be Thanksgiving without celebrating it with loved ones. While celebrating with your family may look a little different this year due to COVID-19, getting together with your family is normally a typical Thanksgiving tradition. 98 people mentioned that they look forward to seeing their cousins, which took first place in this poll. Others said they look forward to seeing siblings and grandparents, uncles and aunts, and others that students and faculty do not normally get to be with.
Additionally, while together with family and friends, the poll showed that most people anticipate watching football as well as the Macy's Day Parade. Another tradition is playing games together and simply sitting together and catching up.
Sophomore Sophie Middendorf is looking forward to the holiday.
"I like Thanksgiving because I get to see the family that I normally don't get to see, and we play a bunch of games together. Overall we all have a great day spending time together."
Thanksgiving is the time to get together with those you love, and while that may be harder to do this year, there are still plenty of ways to celebrate and express gratitude.