SJA Students Partake in Area Musicals
As St. Joe puts on the play The Miracle Worker in February, many students seek out other schools where they can take part in a musical. Angels are scattered at DeSmet, CBC, Chaminade, and local youth community theaters.
First, seven SJA Angels were in DeSmet Jesuit's production of 1940's Radio Hour, which took place on February 20, 21, and 22. This show follows the story of a radio show that continues to put on a show during World War II for the military overseas. The fun and upbeat music and dancing will bring the audience back to the patriotic time period of the 1940's.
"I love getting to sing and dance with all of my friends, and I am really excited to see our costumes because I know they will be so cute!" junior Rosie Schibig said.
"This is my first musical and I am so excited! Everyone at DeSmet has been so welcoming and I can't wait to put on a great show with my new friends," freshman Erin Voigt said.
Additionally, two of our SJA Angels were in The Music Man at CBC. The story tells of a conman, Harold Hill, who poses as a boys band organizer, but attempts to skip town without following through with his promise to teach music lessons. The show ran February 28, 29, and March 1st.
"I love being able to do both SJA and CBC shows because I am able to find two communities that are there for me. I play a pick-a-little lady and love being able to sing and dance with a fun group of girls," junior Olivia Murphy said.
"I love how much acting goes into each number, it is a fun challenge for all of us," senior Natalie Murray said.
Freshman Jenna Roessler is currently a part of Urinetown, through Gateway Center for Performing Arts, known as GCP, a youth community theater. Urinetown follows the story of a town which forces people to pay a fee after using the bathroom. Jenna plays the role of Penelope Pennywise, who is Hope's mother, the "boss lady" of the show. The show dates are April 3, 4, and 5th.
"My favorite part is when the director explains the funny jokes told throughout the story to make a little more sense of what is happening. Urinetown can be a complicated musical for kids 13-18 to somewhat understand, and I love getting to know the musical more," Jenna said.
Lastly, freshman Molly Thompson was in Chaminade's production of Les Miserables. The show tells the story of Jean Valjean, a French peasant who desires redemption after spending 19 years in jail over stealing a loaf of bread, in order to feed his family. The show dates were February 13, 14, and 15.
"The music in this show is very difficult to learn, but hearing all the harmonies come together makes it worth it. I am so excited for the show!" Molly said.
Our theatrical angels have been working very hard on their musicals, and we encourage all of our students to come to the shows! Come to the shows to learn some history, hear some wonderful music, watch beautiful dances, laugh, and experience art.
About the Contributor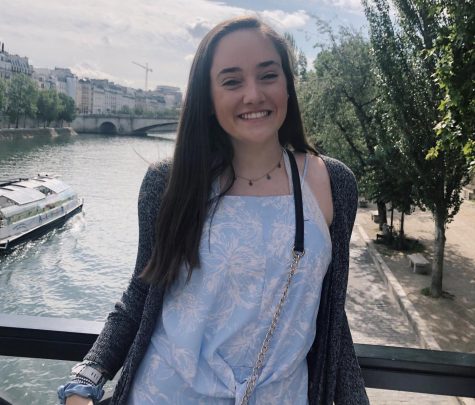 Allison Leahy, Print Managerial Editor
Allison Leahy is a senior at St. Joseph's Academy. Allison is the print managerial editor for The Voice, and is excited for the school year! Allison's...