Staying safe during Spring Break
In previous years, the St. Joe Angels would be preparing for their beach vacations and sandy getaways, but COVID-19 has placed a strain on the reality of traveling. This spring break, the safety of high school students is a top priority as they embark on a week of social interaction and potential travel. As the countdown to March 1st begins, the girls are looking for enjoyable, but also safe, alternatives to spend their time off. Whether students decide to travel or not, there are specific health risks and precautions that are important to be aware of.
Whether high school students are booking a staycation or buying swimsuits for their luxury Cancun stay, it is important to practice CDC hygiene and preventive measures to limit the spread of the coronavirus. To assure the health of both students and their peers, there are some alternative options for adventurous students. Become a tourist in St. Louis and visit the popular tourist attractions, such as the arch, zoo, Union Station, or the Science Museum. There are always outdoor activities like having a socially distanced picnic, campout, or bonfire with friends. As the college advisors, Ms. Holladay and Mrs. Hasbrouck, would say, spend time wisely by getting in any assignments, virtual college tours, or scholarship opportunities for seniors.
Not only do high schools have certain guidelines, but colleges and universities are also maintaining strict guidelines for spring break as well. As they make plans for the second semester, the annual spring break week has been taken out of many schools' schedules. For universities that are adjusting the break, students may be required to stay home from campus until they self-isolate and follow restriction guidelines. For example, Indiana University, Ohio State University, or University of Michigan, to name a few, all have restrictions on the usual spring break.
Popular travel hotspots for teenagers range from the beaches of Florida to the seafood in Mexico. Apart from studying for tests, St. Joe students are putting their minds to work by researching destination requirements and governmental travel restrictions. It is important to stay informed on the recent developments of a desired destination, using caution and judgement when in the planning stages. Before packing a suitcase, follow these steps in relation to the CDC updates.
Before going on vacation, it is essential to find out what vaccines, medicines, and advice are suggested. The flu shot is recommended to be administered at least two weeks before departure to limit the spread of illnesses. In the case of an emergency evacuation, self-isolation, injury, or unforeseen obstacles, it is vital to find out if your health insurance covers medical care abroad. In addition, the U.S. Department of State has an educational website on security risks and local vs. state requirements. Keeping a mental checklist, include a travel health kit with essentials like bug spray, sunscreen, and hand sanitizer, in addition to your Splash swimsuits.
The hard working Principle of Student Affairs at St. Joseph's Academy, Karen Davis, has stressed the importance of keeping students healthy during the pandemic. She has minimized the level of COVID-19 exposure and contact tracing by keeping students socially distanced in classrooms, at lunch, and while passing through the hallways.
"Ultimately, COVID-19 is not about self, it is about protecting others, and it is your responsibility to do so by following the protocols," said Ms. Davis. She will be releasing a further statement regarding spring break the week of January 25th.
If students decide to travel, they are aware that health resources may not be as accessible in international destinations affected by the coronavirus. While viruses do not spread easily on planes because of the high air circulation, air travel leads to long security lines, airport restaurants, and crowding in terminals. The newest requirements for entry to Mexico includes getting a negative COVID-19 test before and during your stay. One to three days before the trip, Americans must undergo a test, making sure to keep a copy of the results in case health information is requested. Testing improves the wellbeing of both American and international citizens and allows everyone to enjoy their vacation without the threat of the virus. If you come home with a mask tan line, you have succeeded in limiting germs throughout airports, bus stations, and on the resort. While basking in the sun, the first priority should be using sanitizer, maintaining social distancing, and monitoring your health. Hotel nurses will be administering viral tests one to three days before the returning flight. In the event someone receives a positive test result, most resorts in Cancun allow travelers to isolate in their hotel rooms for two weeks free of charge. This is why it is vital to ask your specific resort about updated policies on house-keeping, room service, cleaning standards, and disinfecting.
Mrs. Bisch, who graduated from St. Joe herself, is adamant about the safety of her science students and lacrosse players.
"Spring sports are right around the corner, so be safe over your break and come back with a driven and competitive mentality," said Mrs. Bisch. "Please wear your masks and support your teams."
Administration and the teaching staff are meeting frequently to update, review, and communicate future plans to enforce a healthy environment for the Angels. Everyday, behind their masks, they put their health at risk to give students an advanced learning education. While the past year has held many challenges, the St. Joe community is tackling each obstacle with support and a zealous attitude as the country continues to dismantle the coronavirus epidemic. The more steps students take to preserve their health, the more protected everyone in the final months of the school year. By embracing the cultural norm of Accepting Conflict as a Catalyst for Change, students are approaching this year with cooperation and assistance to their community.
About the Contributor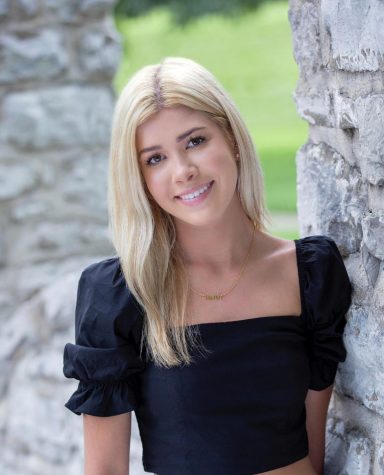 Lauren Stadnyk, Senior Staff Writer
Lauren is a senior at St. Joe, and she is excited to be a senior staff writer this school year. She is an officer for Beta Chi Pi, and a member of Rho...