Campus Ministry takes on Advent
Advent is a time of preparation and patient waiting for Jesus to enter into our lives. As we await the arrival of Christmas day, it's important for our SJA community to celebrate and reflect on our growth through the past year. With Christmas Break rounding the corner and Finals Week approaching us next week, St. Joe's Campus Ministry Team has taken the initiative to bring joy to our school by creating virtual Advent Wreath lighting ceremonies. These videos have been a vessel of peace in the busy month of December, and they remind us to take a step back once in a while to relax.
Freshmen Abbie Dugan has been a big help in the making of the Advent Wreath videos.
"I absolutely love Advent, and I thought it was really important that Campus Ministry reminds everyone to slow down and actually enjoy waiting," Abbie said. "I have really enjoyed making these videos because it's a fun way to remind people about the true miracle of Christmas: Jesus!"
Previous years, the Advent Wreath lighting ceremonies would take place during Community Time in the theatre. This year, with many other changes, the Campus Ministry came up with the innovative idea to create an Advent Wreath lighting video in the daily announcement videos created and edited by the St. Joe TV club. Each week of Advent, a new prayer would be written pertaining to the specific theme of Advent that week.
Sophomore Hanna Jachna makes these videos happen with her talented editing and filming skills.
"I like creating the advent videos because it's fun having the opportunity to help St. Joe get into the Advent spirit. It was so fun working across grades to put together a video," Hanna says.
Senior Rachel Esser helped bring the Advent Wreath to life by encouraging others to practice the traditions of Advent.
"My favorite part of Advent is the emphasis on waiting and being patient because everything in life moves so fast. It's nice to take a step back, realize what's important, and reflect," Rachel said.
The Advent Wreath Lighting videos have brought joy to the entire student body and staff this Advent season. Thank you to the Campus Ministry for creating these videos to remind us to slow down and enjoy the preparation and waiting of Advent.
About the Contributor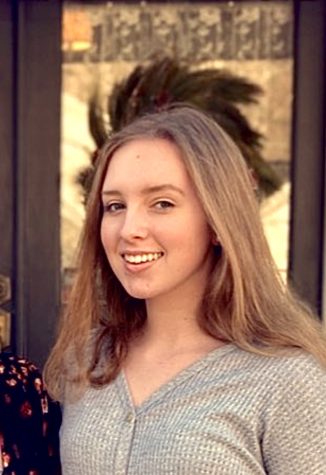 Lily Pingleton, Senior Staff Writer
Lily Pingleton is a sophomore at St. Joseph's Academy. Lily is proud to be a senior staff editor for The Voice! Lily is a Campus Minister spiritual chair,...