St. Joe goes to Canada!
St. Joe is an amazing school for more reasons than one. It offers students an excellent education, as well as a large variety of opportunities for leadership, growth, and service. Most importantly, it gives students a sense of community. However, that community may not always be geographically within St. Joe. The St. Joe community is based on the work of the sisters of the Congregation of St. Joseph—or the CSJs—who traveled from LePuy, France in 1836 to be of service in the United States. They could not speak English, but they worked extremely hard within their new communities to teach and learn from the locals, as well as one another. At St. Joe, students are encouraged to do the same, knowing that, no matter where they go, the St. Joe community will always be with them.
Earlier this year, on Saturday, February 18, four young women from St. Joe had the opportunity to travel internationally to Toronto, Canada, and step out of their comfort zones, as the CSJs did. These students were sophomore, Macie DiGuiseppe, juniors, Emilia Bickel and Sabrina Maniscalco, and senior, Abbie Raga. Dr. Julia Wilkins-Kohrmann, St. Joe's Director of Diversity, Culture, and Climate, attended the trip as well.
Although this was not Abbie Raga's first time traveling internationally, she was slightly nervous to leave town.
"I was nervous to be away from my family and to have to meet and live with new people because I know that meeting new people can be uncomfortable sometimes," Abbie said.
However, she looked forward to seeing the city and learning about the contrasts between Canada and the United States.
In Toronto, the girls had the opportunity to attend classes at the local high school with their hosts. Exploring the city on foot, they were also able to visit major sites, such as Niagara Falls, and experience the scenic beauty of Canada in the winter. They even viewed a Toronto Raptors basketball game and a Toronto Maple Leafs hockey game. Most importantly, they were able to try new things, such as Poutine—a Canadian dish of french fries topped with cheese and gravy—and meet new people.
The students had an incredible time, and after returning home on Sunday, February 26, they shared their experiences and the things that they learned with their friends, family, and the rest of the St. Joe community.
According to Abbie, travel is important for people to experience. It allows them to experience life from the perspective of others and learn new things about the world.
"I also think it is important for people to travel so they learn to be outside of their norm and their comfort zone because it is when we step outside of what we know that we can grow as people," she said.
These four students were very brave to travel outside of their comfort zones. Not only did they get to see the cool and beautiful city of Toronto, but they also got to live out the mission and charism of the CSJs. St. Joe is fortunate to have a community that is based on so much love and strength, and it is even more fortunate to have students who are prepared to spread that community everywhere they go.
About the Contributor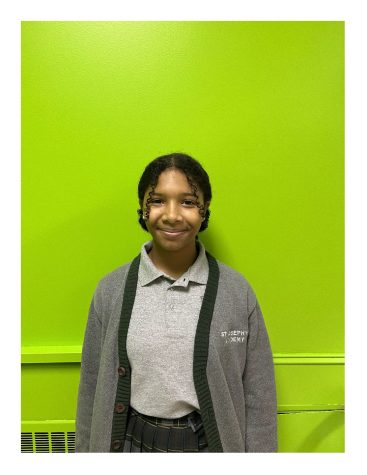 Sydney Moore, Senior Staff Writer
Sydney is a Freshman at St. Joseph's Academy and a Senior Staff Writer on the Voice. Aside from writing, Sydney enjoys reading, running, and participating...