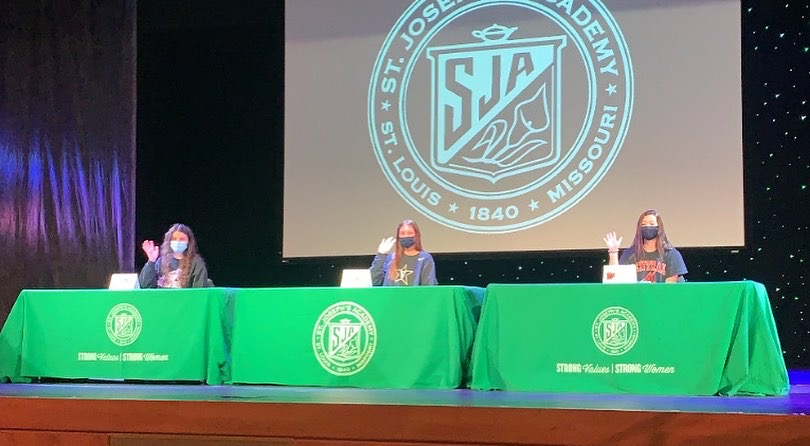 On November 11, St. Joseph's Academy hosted a virtual event of the National Letter of Intent (NLI) Signing in the theater at 3:30 p.m. NLI is an event for St. Joe seniors who will sign a contract, which will become their official comment to play a designated sport in college. This year, four seniors signed to continue their athletic talents in college.
At the signing, Maureen McVey, the St. Joseph's Academy Athletic Director, made a speech about the seniors and how important the signing is for the girls.
"The NLI signing is one day I look forward to each year, to see these athletes sign and commit to a collegiate program," Coach McVey stated to the small gathering due to COVID restrictions. "This day is their reward for all of the hard work, dedication, and commitment to a sport they love."
The SJA seniors who are committing to a college or university are Kara Hauser with a soccer scholarship to Southwest Baptist University, Emma Mueller with a soccer scholarship to Vanderbilt University, Drew Nienhaus with a golf scholarship to Penn State, and Nicole Rallo with a golf scholarship to the University of Central Missouri.
All of the seniors are excited for their futures in college.
"I'm so excited to be attending Penn State University while playing golf. The campus is beautiful, my teammates are awesome, and I really like my coaches," Drew said. " It's been a dream ever since I was little to play a sport in college and now it's a reality, so I am very thankful for this opportunity."
After Coach McVey's speech, the girls signed their names on their specific college's contract, officially committing. Normally, the event concludes with the seniors and their families gathering in the DePaul room for cake and drinks to celebrate and congratulate them on their commitment to a college. However, due to COVID-19, the school had to alter the tradition by sending each senior home with a dozen chocolate chip cookies from Grandma's Cookies. 
Nevertheless, the students were still able to take photos with their families after the signing celebrating their achievements. However, the moral of this event is to congratulate the St. Joe seniors for their effort both in their studies and on the playing field. St. Joe can't wait to see how these girls continue to prosper athletically.