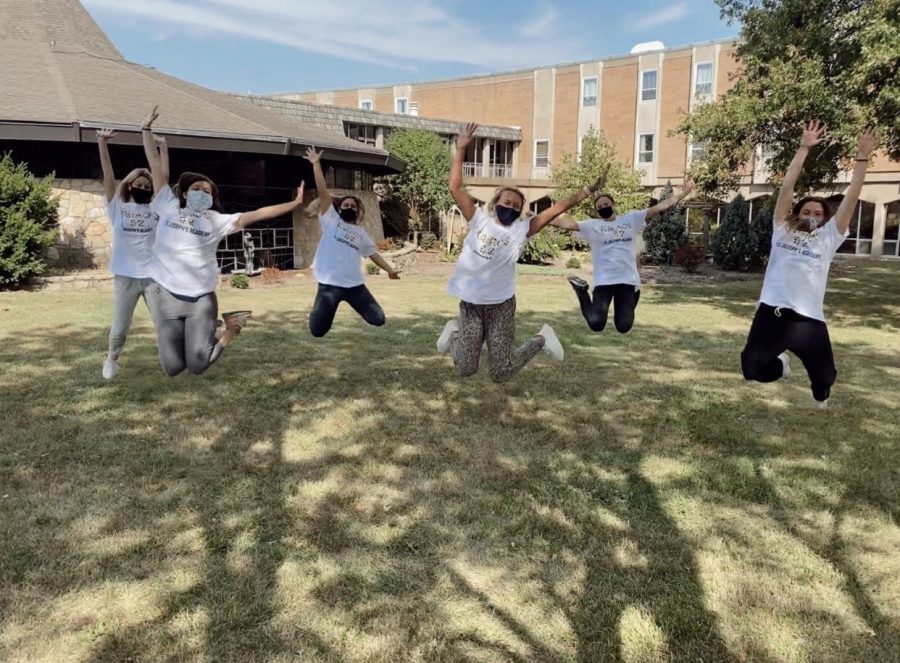 Kelsey Auer
The senior class at St. Joseph's Academy held in its first ever socially-distanced Kairos retreat this October by respecting new guidelines and supporting one another with a Christian mentality. 
Kairos is a three-day retreat program for high school and college students that aims to provide participants with a deeper understanding of their faith and God's role in their lives. Students connect with others by offering their own personal experiences, thus fostering new relationships.  
Preparing for Kairos #52 was a long process, due to the current circumstances. Ms. Anna Hotop began working on it late in the second semester when the pandemic altered the ability to host events, especially an overnight retreat. 
"Everyone came into the retreat with such open hearts. It was a privilege to experience our first ever Kairos in a pandemic with this group of reatreatants and leaders. I'm grateful for the time to pause with you all and recognize how active and present our God is during this time. Kairos #52  was really good for my soul, and I'm glad you all made it work with the expectations we put in place," Ms. Hotop explains.
This September, there was a renewed hope and an opportunity for the retreat. After conversing with the SJA Administration and Pallottine Renewal Center, St. Joe decided to move forward with plans for a modified Kairos. Since it is a milestone experience each year for the seniors, the school and campus ministry team were committed to providing the experience for them. 
Ms. Hotop, Ms. Meersman, and Mrs. Everitt worked together to provide a safe atmosphere for the seniors embarking on their religious journey. Student leaders Ella Baer, Flynn Wiegner, Kelsey Auer, Sam Camfield, and Mia Adamski took on the challenge and worked hard to provide a meaningful week for the girls attending Kairos #52. Only three short weeks before the retreat, production on specific activities and talks began. 
Confidentiality is an important part of keeping the Kairos experience a surprise. The retreat participants are encouraged to have open minds in order to benefit from the week. The only information they received was a packing list to make the activities more fun and memorable. 
On October 6, students arrived at the renewal center with their duffel bags for their distinctive Kairos experience. Temperature checks and daily health screening forms were filled out daily to ensure the safety of all the participants. The girls were required to wear their masks, unless they were outside with a distance of 10 feet between one another. They often resorted to this since the weather was in the upper 80s all week. Small groups could often be seen talking on the lawn and having meaningful conversations they will carry into their future. 
The Pallottine Renewal Center is a beautiful center with a pond, barn, and acres of grass that seem to stretch for miles. Masks were also removed for eating meals or sitting in one's assigned bedroom. In previous years, girls would have roommates assigned to them, but this year, they had a different setup because of the COVID-19 pandemic.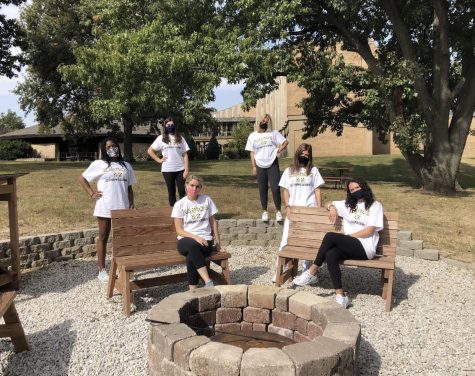 Sam Camfield, along with several others, was one of the small group leaders who planned Kairos in only three weeks. 
"Leading Kairos was a once in a lifetime opportunity," Sam said. "I loved talking to new girls in my class and getting to know myself better as both a person and a leader." 
From October 6-8, the Kairos program scheduled bonding activities to promote close-knit relationships between the girls. The schedule included large activities with everyone, speeches from the staff team, small group talks, mass, and insightful reflections. While the girls couldn't physically embrace one another, they showed their love through supportive attitudes and sometimes emotional conversations. 
The welcoming atmosphere allowed the girls to feel comfortable talking about their personal struggles, without feeling judged or put down. While they've gone to school with these same girls for years, it's good for them to open up to new relationships and stray from their comfort zones. The small groups, each including six girls, allowed the participants to form new friendships and acted as a private place to confide in for personal discussions. This aspect was vital in order to strip away judgement from people they are surrounded with on a daily basis. 
"Kairos was such an amazing experience! My small group was so kind, and no one made anyone else feel uncomfortable or judged,"Sophie Gloriod said. "The girls really helped me feel the love of Kairos." 
Because the St. Joe seniors were diligent in following the established rules for the socially-distanced Kairos #52 retreat, they were able to have a successful and safe week. Being the leaders of the school, they persisted through the different experiences and set standards for the next Kairos groups. They recognized the importance of the retreat by responding with good attitudes and being responsible in the face of a virus.