Staying up-to-date during the hybrid schedule
At St. Joe, the shift from virtual school to in-person school every week definitely can grow tedious and stressful in terms of keeping up with responsibilities and virtual meeting times. Assignment due dates and daily classroom plans are always changing. While this can be difficult, there are some helpful tips that can allow for a more easy-going school experience.
1. Regularly check your Canvas calendar
Every St. Joe student knows that Canvas is the place to access all your assignments, due dates, and materials for class. Canvas has always been a vital tool for getting information; however, especially during this time, it is so easy to mix up or forget when every single assignment is due. By checking your personal Canvas calendar daily, you can immediately stay up-to-date with all assignment deadlines, and you can better prioritize your work. In addition, whenever you submit an assignment on Canvas, the calendar personally crosses that assignment off for you. 
"Personally, I check the calendar several times a day because it tells me what assignments I have completed, what assignment I still need to do, and when assignments are due. Essentially, it gives me everything I need in one place," senior Ella Kertz explains.
The Canvas calendar is a perfect place to stay organized and on top of your work during virtual and in-person school.
2. Check the digital announcements on Canvas
In terms of meeting virtually, certain teachers always meet via zoom, certain teachers never meet via zoom, and certain teachers only meet via zoom sometimes. So, how can you keep up with all of it? Most teachers either have a single announcement or module on Canvas that has a single zoom link for every single time you are supposed to meet virtually. By knowing where to find this announcement and recognizing meeting dates ahead of time, you can easily avoid the stress in trying to quickly locate a zoom link five minutes before class starts.
3. Check the St. Joe monthly calendar
Another helpful tool to staying up-to-date at St. Joe currently is with the monthly calendar that St. Joe personally releases with extracurriculars and important dates. This calendar includes days off of school, M.O.R.E. days, and virtual college visit days. St. Joe releases a monthly calendar several weeks before the start of a new month right now with COVID-19, due to the uncertainty of the future. However, even with the possibility of changes, these calendars help you create a personalized schedule and see when events at St. Joe are so that you can personally plan in advance for any event that involves you.
4. Effectively plan your week on Sunday evenings
The key to having a successful week is starting each week off right. Sunday night before the start of the new school week, check-in with all your classes and know your assignments and expectations within the upcoming week. Write down specific due dates and which classes will meet via zoom so that it saves you time throughout the week when you can be completing your assignments.
5. Ask friends
Lastly, if you really are unsure about a deadline or meeting time, ask a friend. I do not recommend always turning to a friend for clarification because this is a great time to personally prepare for college by becoming responsible and reliable yourself. 
"I do understand the importance of really individually paying attention to deadlines and assignments, so for the most part, I know my due dates and general guidelines for assignments. However, every once in awhile, I will reach out to a friend if I am confused, and I do not think anything is wrong with that," senior Grace Kertz says.
If necessary, friends are often a quick and easy way to reach an answer. That is what they are here for. Also, if you and a friend both are struggling to find an answer, then that is most likely how the rest of the class is feeling, so you could reach out to your teacher at that point. 
Altogether, maintaining your performance during the pandemic can be rather difficult; however, there are many ways in which you can lessen your burden and be responsible with your time management and efficiency. While school can seem rather chaotic, these hacks will not only immediately improve your time in school, but also they will help you in the long-term learn how to plan in advance, reducing stress and anxiety in uncertain times.
About the Contributor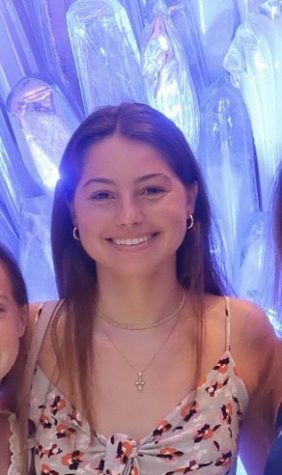 Anna Carollo, Digital Editor
Anna Carollo is a senior and Digital Managerial Editor for the 2020-2021 school year. Anna is a member of NHS, NEHS, and Mu Alpha Theta. She is also an...