St. Joe Seniors Sign National Letters of Intent
On November 13th, 2019, St. Joseph's Academy had 6 outstanding senior athletes sign their national letter of intents to colleges and universities all around the country. The St. Joe community is so incredibly proud of all these athletes, and we can't wait to see all their successes for the next 4 years as college athletes.
The first athlete that signed was Grace Aromando. She signed to play golf at Seminole State College, in Florida, which is a member of the NJCAA (National Junior College Activities Association). She has played St. Joe golf for the past 4 years, making her a 4 time state champion. Go Raiders!
The next athlete that had signed was Katie Maxim. Katie is playing field hockey at Central Michigan University, an NCAA division 1 school. She is a goalie and has played St. Joe field hockey for 4 years, as well Gateway field hockey as her club.
Next, Brooke Plessner signed. Brooke has played at St. Joe all four years, making her a state champion. She will be playing beach volleyball at Missouri State University, an NCAA division 1 school.
Emily Puricelli was next to sign. She played soccer for St. Joe as well as Scott Gallager soccer club (ECNL). She will be playing at St. Louis University, an NCAA division 1 school.
Next, Holly Schneider signed to play soccer at Lindenwood University, a division 2 ranked school. She has played soccer for J.B. Marines. Despite tearing her ACL twice, with her determination and mindset, she will still be playing in college.
Finally, Catey Roux signed. Catey has been a three sport athlete throughout her time here at St. Joe. However, she always knew she wanted to play lacrosse in college. She has played club for Brave Elite Lacrosse as well as her other sports throughout highschool. Roux lead the 2019 lacrosse team to a state runner up title. She was recognized by US lacrosse with the title of All-American Athlete. This is the highest honor a high school athlete can achieve. Despite tearing her ACL this summer, she will be back for St. Joe season with all eyes on her. She will be playing Division 1 lacrosse at Rockhurst University in Kansas City Missouri.
St. Joseph's Academy is proud to see these athletes move on to the next level of play. Good luck!
About the Writer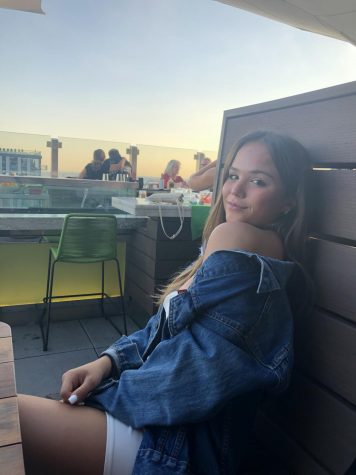 Grace Becker, Sports Editor
Hi Everyone! My name is Grace and I am currently a senior.  I have been writing and editing for the voice since my sophomore year. Some things I'm involved...