The junior class participates in annual retreat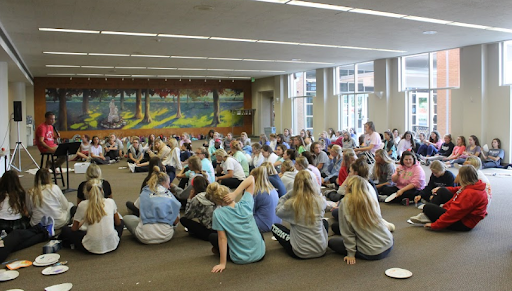 Hang on for a minute...we're trying to find some more stories you might like.
On Tuesday, October 2, the junior class participated in its annual class retreat in the DePaul Room at St. Joe. The retreat is meant to help the class to bond and to learn more about one another. It is lead by Dan Huss, the youth minister at Incarnate Word, and coordinated by Mrs. Kathy Hammell, Campus Minister.
"Life is busy, it is important to stop and reflect on what is most important," Mrs. Hammell said, "it impacted different people in different ways, some people were made more aware the things that are important to their classmates. Some liked it and some did not fully open themselves up."
The retreat was the first opportunity for many to be honest with their classmates about the struggles and hardships they face in their everyday lives.
"It was the first chance for students to think about their own lives and think more deeply about it," Mrs. Hammell said.
When students that participated in the retreat were asked about their experience, they explained that they were able to form better relationships with their classmates throughout the day.
"I loved learning new things about my classmates that I may have never known before the retreat," junior Sophie Wieser said. "I enjoyed getting the opportunity to grow closer with
my fellow Angels."
The retreat is held right around the halfway mark of their St. Joe experience. With only two years left, it opened the eyes of many students to realize just how fast these high school years fly by.
"It made us closer as a class and made me realize that I should take advantage of the last few years I have to bond with my class more," junior Claire Price said.
When asked about any advice they have for the sophomore class when they participate in this same retreat next year, the students had some helpful tips in order for the underclassman to experience the retreat in the best way possible.
"I would tell them to open up and be positive and have an open mind when walking into the day," Price said.
Wieser also gave some great advice for the sophomore class when they participate next year.
"My advice for the sophomores next year would be to take advantage of the time with your classmates and have a positive perspective while participating in the retreat," Wieser added.