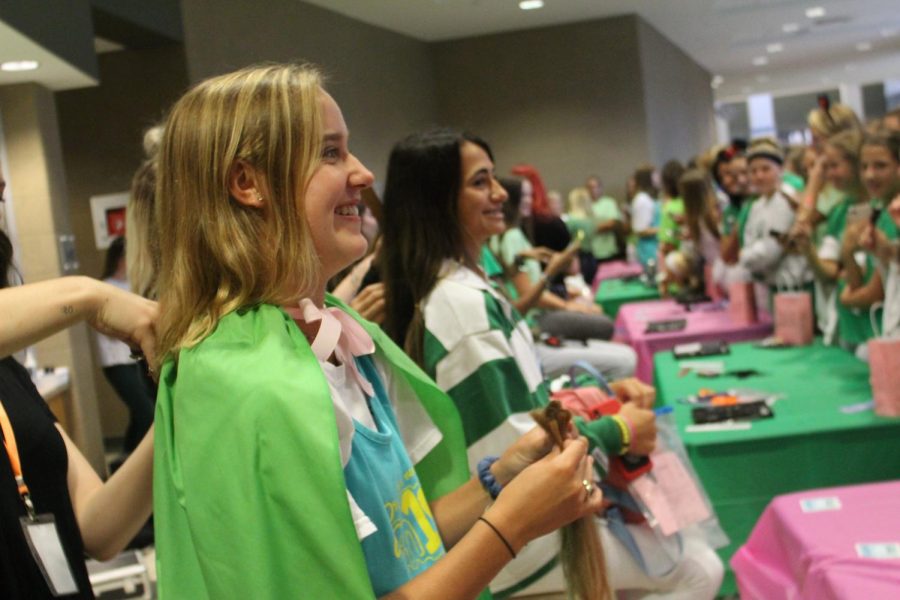 Every year, on the Friday ending Welcome Week, St. Joe Day is celebrated. This anticipated tradition is a day full of school spirit, colorful senior capes, and, every other year cutting hair for charity. This fun day is held to celebrate St. Joe itself and its wonderful community of students and faculty.
The day usually begins with seniors in their capes cheering on students in the parking lot  as they arrive ready to partake in the festivities. Next, the entire school comes together in the gym for cheers, recognition of athletes and the cast of the musical, and the senior pie-eating contest. After an hour of gleeful school spirit, students may participate in SJA Rocks the Bob.
Every two years, SJA Rocks the Bob is held so Angels can donate their hair to charity. Girls can cut eight to twelve inches of their hair, which is given to Children with Hair Loss. Their hair donations are then made into wigs for children without hair caused by burns, cancer, and alopecia.
This year, more than 115 Angels participated, contributing over 1,000 inches of hair. For many girls, Rocking the Bob is exciting and fun.
"I loved changing up my hair while also contributing to a great cause," senior Bonnie Peccola said.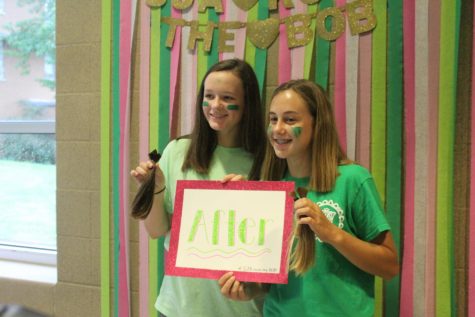 Senior Cathy dePenaloza agreed.
"I wasn't super emotional about donating my hair because I've had short hair before and it always grows back," dePenaloza said. "However, the bob is still an adjustment."
Since it is not held every St. Joe Day, girls who already have short hair can consider growing their hair out and donating it when the next SJA Rocks the Bob is held.
Before St. Joe Day even arrives, seniors begin the festivities by making their capes. The senior capes have become a yearly tradition for all seniors throughout the years. Made with felt and care, each cape is unique and special to the Angel it enwraps. Common designs include feathers, monograms, and the word "Senior" with the graduation year incorporated into the word. The beautiful, bright capes are worn by seniors only on St. Joe Day, but most spend hours making them look great.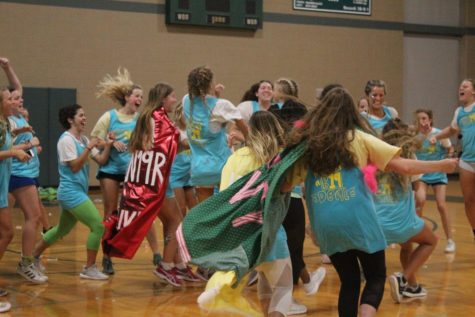 One of the highlights of senior year happens to fall right on the night of St. Joe Day– the senior sleepover. Held every year by one generous senior, the entire class is welcomed into her house to spend the night. This year, Rachel O'Reilly held the wonderful event. All seniors received a bro tank at the sleepover and got to wear them all night and day. At the neon/The Office themed sleepover, seniors got to paint themselves with glow-in-the-dark paint, go swimming, and receive awards at the "Dundies" award presentation that was held. Some of the "Dundie" awards given out included "Most Unique," "Most Likely to Become President of the United States," and "Best Laugh." The senior sleepover is a wonderful event for the entire senior class to bond outside of school and make lifelong memories.
Overall, St. Joe Day is a wonderful school-wide holiday in which everyone comes together to spread school spirit and have fun while also contributing to SJA Rocks the Bob every few years.