Golf Wins State!
November 9, 2017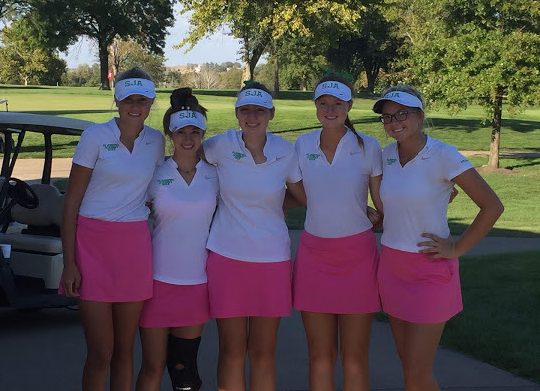 The girls on varsity are ecstatic with their win at state! The girls who played at state were Grace Renfer, Grace Aromando, Lauren Gallagher, Nicole Rallo, and Drew Nienhaus.
On the first day the girls finished with a 317, in second place, right behind Notre Dame de Sion. This put an enormous amount of pressure on the girls to do better the next day.
"There was a chance the second day could have been rained out," junior Lauren Gallagher said.
Thankfully, the next day was not rained out and the girls pulled through with a 306, putting them 10 strokes ahead of Notre Dame de Sion.
The freshmen were especially excited with their first win.
"I cannot believe I had won state as a freshman and still have three more years to go," freshman Drew Neinhaus said.
This season was bittersweet. The girls are happy about their win, but sad that the seniors are leaving.
"Both were amazing and I can't imagine our team without them next year," Gallagher said.
Seniors Meaghan Hamilton and Grace Renfer have been on the team will treasure their time on the golf team.
"It has been an amazing experience to represent SJA all four years," Renfer said. "I'm sad to leave it behind."
Renfer is not too upset though as she is hopeful for her next season at SIU-Carbondale, where she was recently signed to play golf.
Renfer is excited about her future school. "I knew since the moment I toured it that it was my dream school. To be able to play Division 1 level like that is a dream come true for me. This is a goal I've been working for my entire career."
Congratulations to the SJA golf team on the win and good luck next season!